Frequently Asked Questions
About AIROS Skyview
What is AIROS Skyview?
AIROS Skyview is an online helicopter tour reservation platform. Customers are able to reserve their seats and customize their tour package through our website. We contact our network of air operators to provide our customers with a seamless booking experience.
Who owns the aircraft? Who are the operators?
AirX partners only with air operators with an Air Operator's Certificate, issued by the Ministry of Transportation. The aircraft is owned, maintained, and operated under the responsibility of our partners. AirX operates as an intermediary between the customer and the air operator.
About reservations
How to make a reservation
1. Choose a plan from the options listed on the main page. A temporary reservation is made after specifying the time and date of your departure.
2. After we confirm the availability of your flight with our partners, we will guide you through the payment process. We accept payments from credit cards, or direct bank transfer.
3. After the payment is received, a confirmation window will be displayed.

What happens when flights are not available in my desired time or area?
You can make changes to your itinerary when flights are not available in your desired time or area. Please let us know about your preferred flight path, time, and changes to the number of passengers on board either via phone or email.
Can I use your services for other purposes other than helicopter tours?
Our helicopters can be used for transportation, aerial photography, surveying, events, and others. Please let us know beforehand through email or phone.
Can I choose the type of aircraft to fly in?
You can choose to fly in a specified aircraft of your choice. In most cases, the most appropriate aircraft will be chosen for the type of flight conducted. Requests for a certain type of aircraft can be made through email or phone.
How do invitation codes work?
You may have received an invitation code from a customer who have flown with us before.
Type in your code under "Others, specific requests" (その他、ご要望など) to receive your discount. Discounts or special offers will be applied before payment.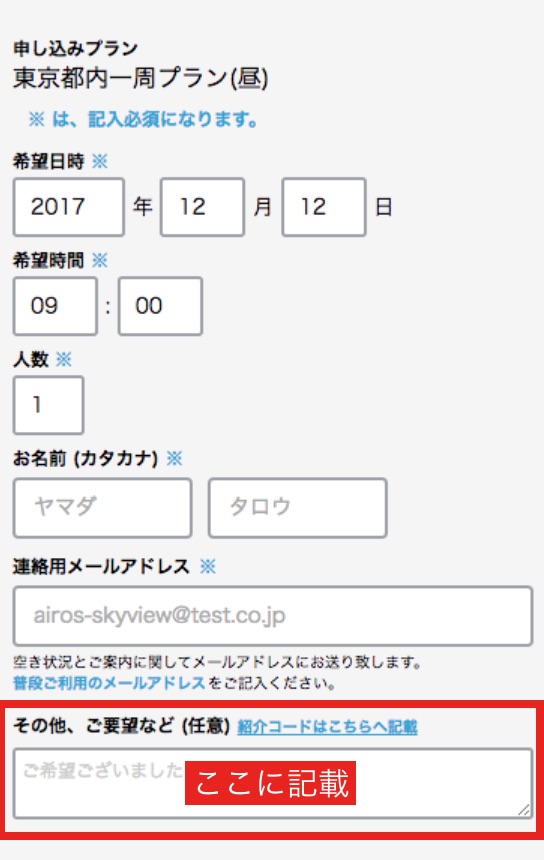 Payment Options
Payment is accepted through major credit cards. After registering for AIROS Skyview, payment can be made through the website. Direct bank transfers are also available upon request.
About Rescheduling and Cancellations
What happens if I want to cancel or make changes to my flight?
If you would like to cancel or make changes regarding your flight, please contact us through email or phone. Cancellation fees will vary depending on the contracted air operator. We will inform you of your cancellation policies before making your reservation. As a general guideline, the following is our most stringent cancellation policy: A. 4 Days before the departure date: Full Refund B. 2 Days before the departure date: 50% Refund C. The day before or on the day of: No Refund. *This does not apply for bad weather cancellations **Please Note: This is a general guideline. There may be cases where you are required to pay more or less depending on the situation
What happens when my flight is cancelled?
If under the following circumstances your flight is cancelled, you can request either a full refund or reschedule your flight for no additional fees:
• Your flight is cancelled due to adverse weather
• Your flight is cancelled due to problems regarding the aircraft
• Your flight is cancelled due to an act of god
• Your flight does not depart

On the day of your flight
Boarding Process
If you have requested a shuttling service, the shuttle will arrive at your requested location. If you plan on arriving at the heliport on your own, we would ask for you to arrive at the terminal at least 30 minutes before your departure time.
Our staff will assist you in boarding the aircraft. There are lounges within the airport to wait until your departure time.
Baggage
Can I bring baggage on board the aircraft?
The helicopter has a limited baggage compartment, and large items are generally not accepted on board. Please let us know about items you are planning to bring on board through phone or email. We also offer baggage delivery to your destination.
Fares and Other Fees
Are there any additional fees?
No. The helicopter tour packages are priced as displayed on the webpage. Customized flights, such as from requesting a different destination, or switching to another aircraft type will induce additional fees depending on the type of flight. For more details, please contact us by email or phone.