About reservations
Q.
Is it possible to ride without making a reservation?
A.
It is a complete reservation system. Please make a reservation by selecting the desired date and time from each plan details screen.
Q.
How many days in advance can I make a reservation?
A.
Reservations can be made from about one month in advance. Reservation will be confirmed in the order of payment in full deposit system. If it is an anniversary, please apply as soon as possible.
Q.
How can I make a reservation?
Q.
Can I change my reservation?
A.
It is possible up to 3 days before the reservation. Please be sure to contact "support@airos.jp" by e-mail. In that case, please fill in ① Name (full name) ② reservation date and time.
Q.
Is cancellation possible?
A.
7 to 4 Days Before Your Flight: Full Refund (The schedule can be changed for free / indefinitely. The schedule can be decided at a later date.)
3 or 2 Days Before Your Flight: 50% Refund
1 Day Before (the day before), on the Day of the Flight, or No Show: No Refund
Please note that there is a separate cancellation policy for charter flights.

Q.
Is it possible that day and the next day of the reservation?
A.
On the day up in the morning, you can make a reservation from each plan detail screen.
In the case of last minute, because there is a case calendar display is not up-to-date, there are times when you do not meet your request Please acknowledge.

Q.
How can I use the coupon code?
A.
When making a reservation, enter the "Coupon Code" field and press the "Apply Button".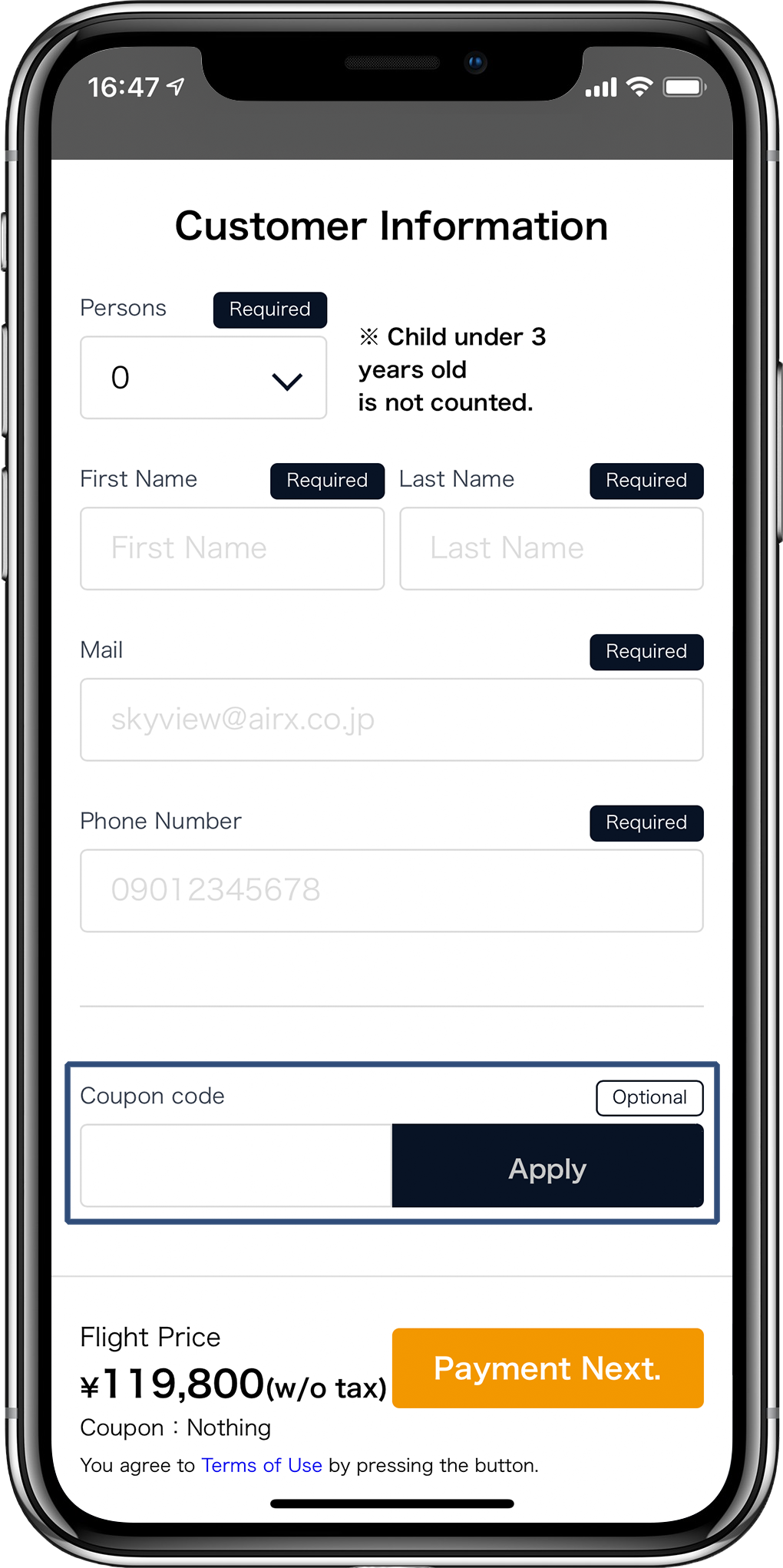 On the day of flight
Q.
Please tell me the flow of the day
A.
①Please check your e-mail before you go out. * An email will be sent if the flight is canceled due to bad weather.
② Please come to the meeting place exactly at the meeting time. (If you arrive too early, the waiting time may be long.)
③ We will explain the points to note when boarding.
④We will guide you to the aircraft at the scheduled time. (There is a possibility that the guide will be earlier than planned.)
⑤After enjoying your flight, you can quickly disband.
Q.
What should I do if I am late?
A.
Please (contact to in the email of the day guide) call us immediately. Taking into account the reservations of the other customers, and to adjust the schedule.
By adjusting the schedule, there is a case to be shortened or canceled flight time. There is no refund of the difference in that case.

Q.
What weather can't fly?
A.
Finally, pilot taking into account the various Do information and made the decision of flight availability.
Even if sunny, it will determine that the flight can not if you do not meet the safety standards that or strong is low or wind clouds.
In the case of reservation change from our weather judgment, is the schedule can be changed for free / indefinitely. Determination of the transfer schedule does not matter at a later date.

With respect to fee
Q.
Do you have a child fee?
A.
Children over the age of 3 are counted as one adult. There is no child fee setting. If you are under 2 years old, you can board on your lap.
Excludes Hiroshima Heliport and Yao Airport courses. Only children who can sit on the seat are available.

Q.
Will the price change for 1 or 3 people?
A.
Our scenic flights are dealing with it only chartered flight. Rates are charter fee per aircraft all.
Q.
Do you include insurance premiums? In addition, What is insurance?
A.
And is applied to the airframe thing called "third-party passenger comprehensive liability insurance", the costs are also included in the flight fee.


With respect to flight plan
Q.
In the night of the Tokyo night view sightseeing plan, Do you have any plan of Tokyo takeoffs and landings?
A.
Tokyo night view sightseeing plans, we offer a plan of Funabashi heliport, Yokohamanishi heliport take-off and landing. Have a look at this.
Q.
Because we want to cheaper price, Is it possible to shorten the flight time?
A.
Because there is application course to the Civil Aviation Bureau, you will not be able to change the flight time.
Q.
What is the cheapest plan in Tokyo?
A.
Tokyo Heliport onset of the 10-minute flight plan is the cheap price is the best plan. Have a look at this.
Q.
What is the recommended plan in Tokyo?
Q.
Funabashi heliport What kind of place?
A.
About 15 minutes by car from Funabashi Station is in the advanced location in the north, is a take-off and landing field with a retreat feeling. Since it is a heliport using a vacant lot, for scaffold slightly bad, easy to move clothes, please come in shoes.
Q.
Yokohamanishi heliport What kind of place?
A.
Nishiyokohama, it is the heliport of the hill which is in Hodogaya-ku. The west side of the Yamanote Line, is recommended for people who're in the Yokohama area.
Q.
Is there a waiting room?
A.
Funabashi heliport, Yokohamanishi heliport does not have a waiting room.
There is a waiting room in the other of the heliport, but there are times when too much luck early waiting time becomes longer, so we ask that if you visitors to guide a set time.
Q.
Do you have a bathroom?
A.
You do not have a toilet in Funabashi heliport. Other heliport is being installed, but is smooth and you'll complete your at the station or convenience store before your visit.
Q.
Want to see from the top the Disney!
A.
Disney neighborhood has become a complex airspace, such as control of the Haneda Airport and the surrounding heliport, the Company will not be able to fly.
Q.
Do you have a plan to ride with 4 or more people?
A.
In some plan there is a plan that can take you up to 5 people.
In the other plan is a reasonable way to get ride one aircraft in order to farewell the case of four or more people is the best.
Q.
Is it possible to fly two aircraft at the same time?
A.
Depending on the availability of the helicopter, but Tokyo heliport, Kyoto heliport, such as Yao Airport, you can be available in some areas.
Because you may have any fee occurs separately, please contact us from here.
Q.
Do you time is included of getting on and off the flight time?
A.
No. Not included. Plan that you choose will be the actual flight time.
Q.
Are there any changes due to the new route at Haneda Airport?
A.
It has been announced that Haneda Airport will begin operating a new flight route on March 29, 2020 to increase international flights.
Along with that, a test operation will be conducted on the new flight path from January 16 to March 25 (15:00 to 19:00). Therefore, please be aware that the course content and flight route of our helicopter cruising may be changed after January 16th.
With respect to surprise and gifts
Q.
And blindfolded in a surprise I want to take up helicopter.
A.
Sorry, what is possible is blindfold will be up to the heliport entrance. Because there is a description of such notes before flight, I blindfolded you'll need to remove.
Q.
Is it possible to keep the gifts that had been sent in advance to the flight?
A.
We are sorry, but because there is a risk of a delivery accident, damage, loss, deposit in advance of you are not accepted.
Q.
Is it possible to bring a bouquet bought in yourself?
A.
Is possible. We will keep our staff on the occasion of coming to the heliport. Bring to the cabin is also available.
However custody in advance of you are not accepted. You can only you bring when you get your visit on the day.
Q.
Is it possible to keep the bouquet you ordered as an option on board?
A.
We do not allow bouquets to be brought, delivered, or stored in advance due to the risk of shipping accidents, damage, or loss. If you would like to bring your own bouquet on the flight, no problem. However, there is no space on the plane to hide the bouquet, so it will have to be placed on your lap during the flight.
Q.
Is it possible to get pass the gifts and flowers in the middle of a flight?
A.
The pilot can not be accepted because it is devoted to maneuver. You can offer on top of the seat.
Q.
Some bouquets are not displayed.
A.
Bouquets have different purchase periods depending on the type. Please note that the purchase deadline has passed for items not displayed.
With respect to the boarding of the helicopter cruising
Q.
Or bring Is it possible to mobile phone, camera, video camera on board?
A.
Is possible. Please enjoy all means taken by mobile phone and camera. (Tokyo heliport is the ground of the shooting is prohibited.)
Q.
Is the charter?
A.
All of our excursion plan is there a chartered. Enjoy with loved ones and the private space (such as riding together movement plan, with some exceptions)
Q.
Is the set time is many minutes ago?
A.
Time to choose at the time of booking is a set time. After about 30 minutes will be the take-off time of the time that you make a selection.
Q.
Can I talk in the cabin?
A.
Osaka heliport, except for the Minato Mirai heliport, you will be asked to talk with the headset.
Q.
Do you have the day of your belongings?
A.
There is no one that special mention. Customers using Narita flights, please have your ID certificate always.
Q.
Is there a weight limit?
A.
Up to 120kg per seat, everyone of total body weight is generally of 3-seater aircraft fuselage of 220kg, 5-seater and will be up to 330kg. Because there are exceptions such as the long course, please understand that it may be refused in some cases.
Q.
About your use of electronic equipment
A.
Please hang up the airplane mode or power. Also it will be subject to such as Bluetooth earphones. In the case of violation, it may be imposed is a fine of up to 500,000 yen. (Civil Aeronautics Regulations No. 164 Article 15)
Q.
How do I dress?
A.
Please get on with the same clothes as when you go out. Since the winter will arrive also heater, it is useful to receive summons an adjustable jacket.
Q.
Can I fly during pregnancy?
A.
Although there are no restrictions on boarding, there is a possibility of affecting your body. If you are uncertain, please consult with your doctor in advance. Please note that compensation cannot be made even in the unlikely event.
Q.
Can pets be boarded?
A.
It can be boarded by having the whole body of the pet stored in a cage etc. Please note that dog slings cannot be used. Pet carts are not allowed. In order to prevent accidents, do not leave the helicopter in a helicopter or heliport from a cage or the like.